Chromat SS18: Serenity Runway Review
SPRING/SUMMER 2018: SERENITY
The Spring/ Summer 2018 Serenity Collection started with healing. 
Following our AW17 Buoyancy collection­– which was all about survival and keeping our head above water during the political upheaval– we felt the urge to cling to rocks. To feel grounded. To practice self-care and collective care of our community. We looked at zen gardens, salt baths and healing crystals.
As the grounding rocks have gone deeper underground, our energy has begun to heat up and become liquefied, molten. We feel a volcanic energy right now; things are about to burst, but new land is forming.
It's a chaotic, exciting time.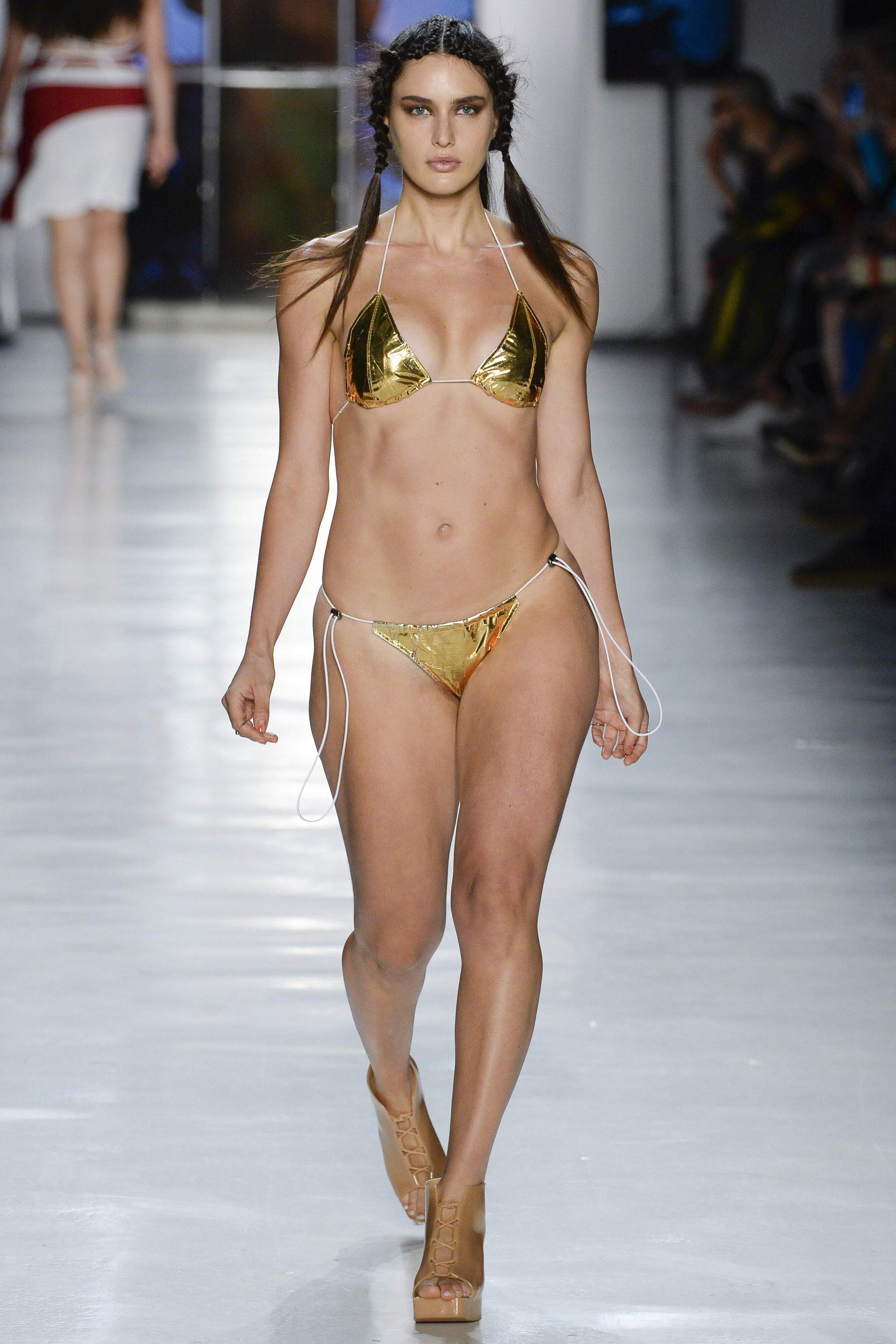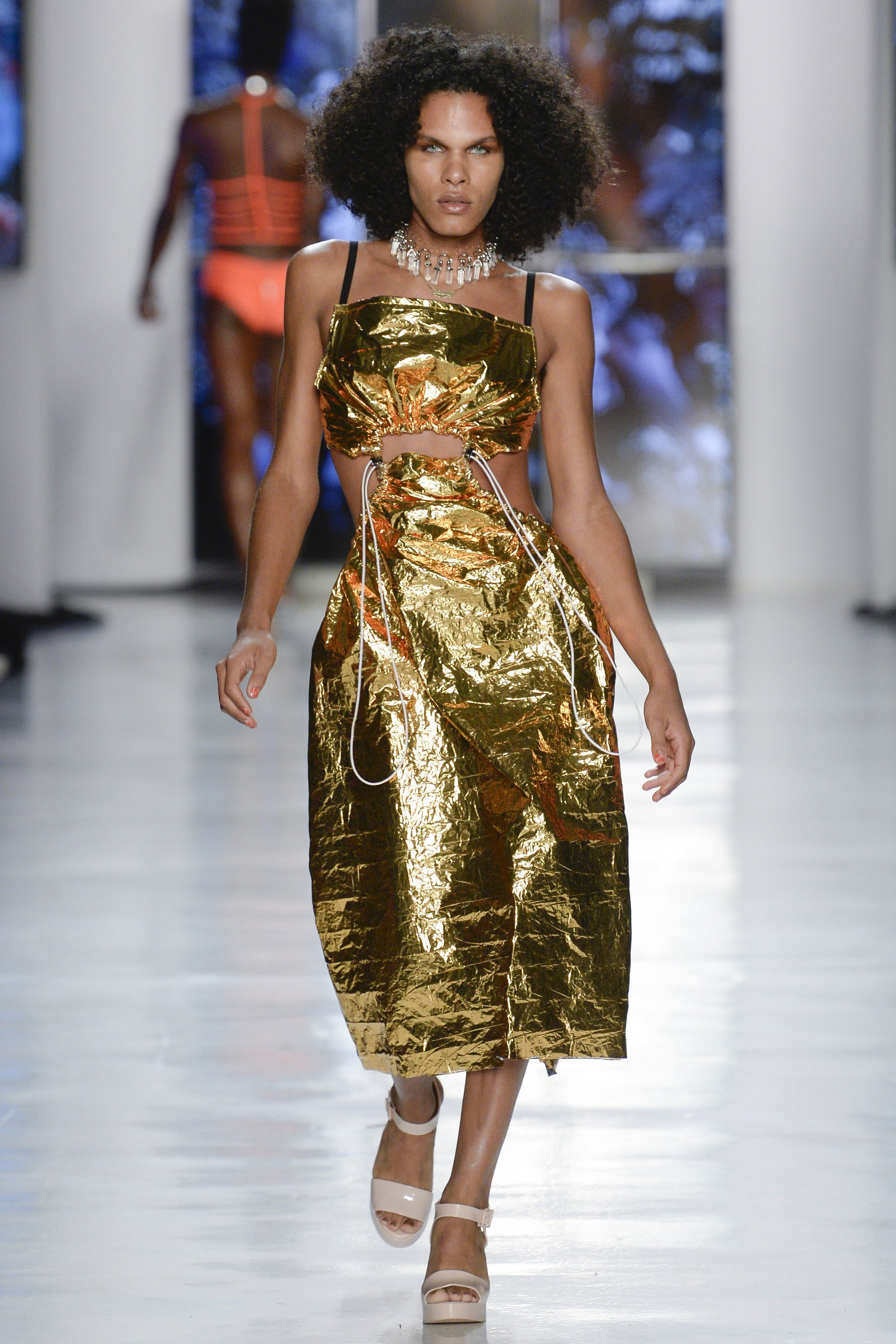 "
The dizzying number of looks and body types was a testament to the range of this designer, who has transferred her architectural, performance-based approach beyond a one-piece bathing suit to encompass athleisure with real attitude, and even unconventional eveningwear fashioned from golden space blankets.
"
-
Vogue Runway
"A longtime, staunch supporter of inclusive sizing, 
Chromat
 knows a thing or two about what makes women feel comfortable, confident and sexy."
-
WWD
"There's been a seismic shift in the way we think about body positivity in the culture at large, and it's designers like Chromat who are leading the charge on the runway."
-
Vogue Runway
"It will be remembered as a celebration of self-care and community in this weird time of turmoil."
-
i-D
"Closing the show was 
Maya Monés
, a trans woman who sashayed down the runway to audible screams of excitement from the crowd."
-
Mic
See more coverage of the Chromat SS18 Runway Show:
Bravo
BULLET
The Cut
ELLE
E! News
Fashionista
Fashionista - Beauty
The Fashion Law
Glamour
High Snobiety
i-D
i-D - Backstage
Into
Mic
Milk
The New York Times
Nylon Magazine
Nylon - Beauty
Out Magazine
Refinery 29
Vogue Runway
Vogue - Beauty
Vogue - Trends
Vogue - Music
Vogue - Casting
Vogue - Health
Well and Good
WWD
_______________________________________________________________________________
Show Credits
Producer:  Christine McCharen-Tran
Front of House Production:  John Pizzolato, Jessica Allen
Public Relations:  International Playground
Production Management:  Nikki Sude at LDJ
Sound:  Suzi Analogue
Visuals:  Pussykrew
Accessories:  Creepy Yeha
Casting Director:  Gilleon Smith with Cindy Ramirez, Tobi + Tolu Aremu, Savonne Whitfield
Stylist:  Edda Gudmun with Martin Tordby
Hair:  Kien Hoang for Oribe
Makeup: Fatima Thomas and the M∙A∙C PRO Team
Manicurist: Eda Levenson of Lady Fancy Nails       
Set Design: Safwat Riad
Lighting: Michael Potvin of Nitemind Creative
Zines: Papyrus
Shoes:  Melissa
Chromat Team: Becca McCharen-Tran, Lily Simpson, Kristi Siedow-Thompson, Gabby Meyer, Madison Ford
Models:
Leyna Bloom, Victoria Gomez at JAG, Janine Tugonan at MSA, Priscilla at Wilhelmina, Hunter McGrady at Wilhelmina, Paola Harper at EMG, Martine Fox at Q, Katya at Women 360, Jocelyn at MUSE, Geena Rocero, Elliot Sailors at ANTI, Jahmal Golden, Shan Callendar, Zu at Americana, Sabina at JAG, Symone at 28 Models, Shannon Gartman, Jordyn Woods at Wilhelmina, Emme at Iconic, Monika Michelle at NOMAD, Carmen Carrera at Elite, Tea Bently, Cleopatra at 28 Models, Denise Bidot at Muse, Seynabou at JAG, L'Ka, Lauren Chan, Nathalia at JAG, Dakota Moore at Q, Aurel Haize Odogbo at LORDE, Ese at MSA, Maya Mones at LORDE.
Special Thanks to Samsung, Red Bull, Bandelettes, Noah, Andrew, Jon and backstage catering by Dig Inn.
_______________________________________________________________________________
_______________________________________________________________________________
_______________________________________________________________________________